Complete Story

05/09/2017
State Civics Education Organization Announces New Trustees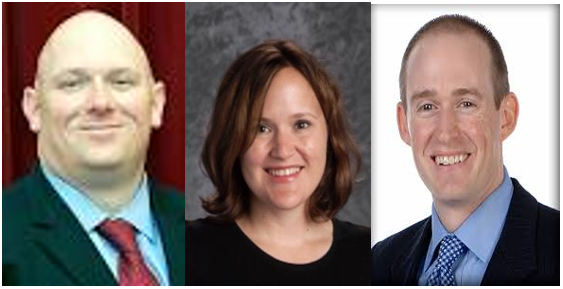 COLUMBUS (May 9, 2017) – The Ohio Center for Law-Related Education (OCLRE) has announced three new members of its Board of Trustees: Michael D. Farley, Suzanne B. Pfeiffer, and Jeremy S. Young.
Michael Farley is Vice President of Legal and Government Affairs for the Ohio Insurance Institute. Farley has more than 20 years of experience in government relations, organizational leadership and media relations. He is a member of the American Bar Association, Ohio State Bar Association, Columbus Bar Association, and District of Columbia Bar Association.
Suzanne Pfeiffer is History Department Chair at Columbus School for Girls. Pfeiffer teaches a variety of courses including World History, AP United States History, Civics, Philosophy, Introduction to Women's Studies, and a Senior Seminar on Bioethics. Prior to joining Columbus School for Girls' faculty, Pfeiffer served as a program coordinator at the Ohio Center for Law-Related Education from 2001 to 2005, where she coordinated statewide civic education programs.
Jeremy Young is an associate at Roetzel & Andress. Young focuses his practice on business and commercial litigation, with an emphasis on eminent domain, property-related litigation and appellate law. Prior to joining its Board of Trustees, Young served as co-chair of the OCLRE Mock Trial case writing committee.
"Michael, Suzanne, and Jeremy bring valuable and diverse strengths and perspectives to the Board, and the other Trustees and I look forward to working with them for the benefit of the organization and those it serves," said OCLRE Board President Marion Smithberger.
OCLRE has provided civics and law-related academic programming for students throughout the state for the past 34 years. Established in 1983 as Ohio Mock Trial, OCLRE has grown to include five student-focused programs and two teacher conferences. OCLRE is sponsored by the Supreme Court of Ohio, Ohio Attorney General, Ohio State Bar Association, and the ACLU of Ohio Foundation. OCLRE programs are funded in part by a grant from the Ohio State Bar Foundation. For more information, please call (877) 485-3510 or visit www.oclre.org.