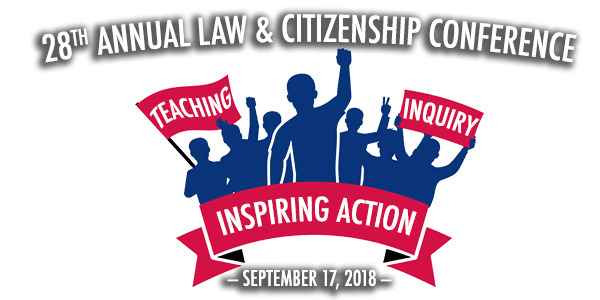 2018 Law & Citizenship Conference
Teaching Inquiry, Inspiring Action
Monday, September 17th, 2018
Westin Downtown Columbus
Need to book a hotel room for the conference? A special group rate of $140.00 (before taxes/fees) can be booked by clicking here, or by calling 1-800-937-8461 and identify yourself as a member of the L&C 2018 block of rooms. The group rate expires August 24, 2018, so please book early!
---
Looking for a handout or powerpoint from the conference? All handouts/slideshows shared with OCLRE have been added to a Google Drive folder for your convenience.
Congratulations to our 2017 Award Winners!
At the conference, we recognized those individuals who have made a significant impact on OCLRE.
2017 Lori Urogdy Eiler Award for Mock Trial Coaching Excellence recipient Scott Robe (left) of Olivia Davidson Washington Mock Trial Club in Athens, and 2017 OCLRE Founders' Award recipient Richard Smith (right) retired educator from Marysville High School.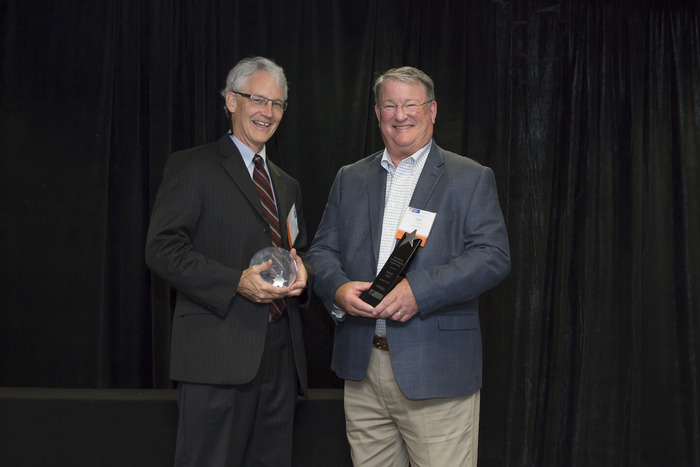 The Law & Citizenship Conference is an annual statewide gathering of teachers, professors, lawyers, and other civic and law-related education professionals who come together to share curriculum, effective teaching strategies, best practices, and the latest hot topic issues important to teachers. Teachers leave the Conference prepared to spark lively classroom discussions and strengthen students' analytical skills. A great way to start the school year with new content, lessons, and ideas!
---
---
Questions can be referred to Ryan Suskey at rsuskey@oclre.org or 614-485-3506.
Pricing & Registration
Registration for the 2018 Conference has been streamlined. The conference will be held on only one day (Monday September 17th), with an Introduction to Mock Trial scheduled for Tuesday, September 18th.
As an attendee of the conference, you are eligible for discounts on several add-on options (mock trial case-file, mock trial professional development)

Membership: $30.00
| | | | | |
| --- | --- | --- | --- | --- |
| Conference Option | Members | Non-Members | Early-Bird (By 6/30/18) | |
| Conference Registration | $80.00 | $120 | $65 | |
Add-on Prices for Members
Digital Case File: $90.00 (regularly $160.00)
Hard Copy Case File: $115.00 (regularly $175.00)
Intro to Mock Trial PD: $10.00 (regularly $25.00)
Sessions & Speakers
Thank you to all who participated in the 27th Annual Law & Citizenship Conference.
Looking for a handout or powerpoint from the conference? All handouts/slideshows shared with OCLRE have been added to a Google Drive folder. Please access to see these materials.
The 2017 L&C Program is available to review the entire conference.
THANK YOU
to the 2017 Keynote Speaker
Ms. Patricia Rodriguez As the daughter of the late Demetrio Rodriguez, Ms. Patricia Rodriguez knows first-hand the power of individual advocates for change. Demetrio Rodriguez was the lead plaintiff in the U.S. Supreme Court Case San Antonio Ind. School Dist. v. Rodriguez, challenging the constitutionality of school funding based on property taxes. Mr. Rodriguez noticed the extreme inequities in education funding for children in his neighborhood, compared to those in wealthier parts of San Antonio. This injustice sparked a life-long passion for education equity, inspiring the next generation of leaders to continue the fight.
Ms. Rodriguez shared the story of her father's work, and the enduring legacy that he left behind. The Rodriguez case has been cited in the analysis of Ohio's own twenty-year struggle over school funding in DeRolph v. State.
---
To see a list of presenters from 2016, download our program HERE
FAQ
What is included in the cost of registration?
Conference registration includes all sessions, meals, and events for the day(s) on which you have registered. Registration also includes a thumb drive of lesson plans and resources related to the session, a complimentary copy of the High School Mock Trial Case File, and free registration for a 1 day Mock Trial Professional Development. Registration does not include lodging, dinner, or incidentals during your stay.
Do I have to attend both days of the conference?
No, attendees can register for one or both days of the conference. The rates are structured to give a discount for two days of attendance, but registering for 1 day of your choosing still includes the free case file and thumb drive, as well as the free Mock Trial PD.
Can I earn CLE credit or contact hours for attending the conference?
The conference is not approved for CLE credit for attorneys at this time. All attendees will receive contact hour certificates for the number of hours they attended, which can be used by teachers for recertification or for district purposes.
Is graduate credit offered for the conference?
Interested attendees can receive 1 graduate credit from Ashland University for attending the conference and completing an assignment. Those wishing to receive graduate credit must register for both days of the conference, and submit their assignment by the deadline. The cost of the graduate credit is $250.00 due at time of registration via check or credit card. Registration forms will be available at the conference at the registration table.