Complete Story

02/03/2016
Schools Face off in the Courtroom
By: Zoe Greszler/ Norwalk Reflector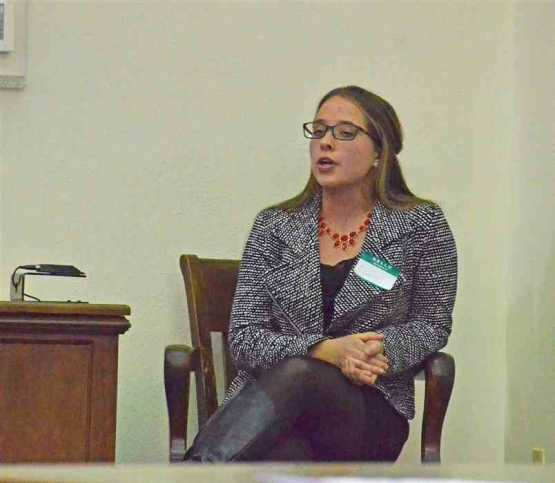 .
The young attorneys had to decide if an officer was innocent after shooting a teen twice in the right shoulder. According to the script, two teenagers appeared to be arguing in a parking lot where as possible attempted robbery had been suspected. One of the teens was dressed in a costume and held a realistic looking toy bow and arrow. The officer pulled up behind the boys in his motorcycle, took cover behind the vehicle and called for backup.
One boy then raised his bow and arrow at the other. The officer shouted a warning to lower the weapon, but the teenager turned, weapon drawn towards the police officer, who then shot two rounds. The scene reportedly happened all within 30 seconds.
Each trial team performed twice, once as the defendants and once as the prosecutors, each with their own set of witnesses.
Meghan Hedrick, 16, of St. Paul, played an attorney for her school's team.
"We have to work with our classmates to put on a trial against other schools; it's really interesting," Hedrick said. "It's been helpful to see what it's like in a real trial as an attorney."
That's what the activity advisers hoped for.
"The case is handed down from the Ohio Center for Law-Related Education (OCLRE) to all participating schools," said St. Mary teacher and mock trial adviser Steve Kohler. "The students then get packets to read and use to research the case. They get written statements, legal cases to provide previous case background, information of the incident."
Kohler said it is almost like being in a play.
"They almost have to memorize their lines, only it's harder." he said. "They have to know their role forwards and backwards because they're going to be asked different questions and they need to know how to answer. And the lawyer must know all of the legal ramifications and how to argue their point, when to call an objection."
The activity also helps students with needed skills.
"It helps a lot," Kohler said. "It helps with public speaking for one thing. It helps with critial thinking. They have to think on their feet, sometimes under pressure. And it helps with research. They're doing a lot of research for their trials."
All of the students present were able to play at least one role.