Complete Story

02/02/2016
A Lesson in Law: Local Students Participate in Mock Trial Competition
By Amanda Plotts/ Circleville Herald
CIRCLEVILLE —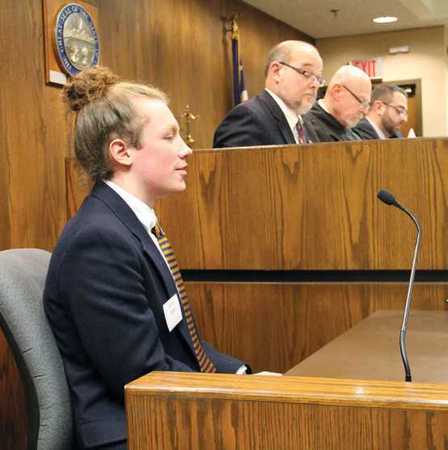 As Judge P. Randall Knece read the results of the competition, he said it was the first time in 23 years he has seen three teams move on to regionals which goes to show the caliber of the teams. Along with TVHS, Miami Trace High School and West Jefferson High School are advancing to regionals.
TVHS had two teams participate in the competition. According to advisor Michael Whitten, the students started working on the case the first week of October and would practice four hours a week.
Each Ohio Mock Trial team consists of five to 11 students who assume the roles of witnesses and attorneys to present both sides of an original case based on a constitutional issue. Each team will compete in two trials against opposing teams.
In this year's case, fictitious defendant Officer Green is charged with felonious assault after using deadly force against a juvenile accused of armed robbery.
Every year the case is different but Whitten said it relates to teenagers and a relevant subject in their life.
Whitten said a few of his students want to go into law careers but mock trial can benefit them all because they will learn about government documents, how to read cases and how to work together.
"The skills that they learn will help them," Whitten said. "They will all go on to be successful."
TVHS seniors Becca DeLong and Flynn Shannon were team captains and have been involved with mock trial since the sixth grade.
"They were the leaders and kept it all going," Whitten said.
DeLong said she enjoys it because it is something she does not get to do in her everyday school subjects.
"The most challenging part is not being prepared for what the other side will do," DeLong said.
This has taught DeLong to think fast on her feet and to recover quickly when on the spot.
For Shannon, being a part of mock trial has helped his critical reading skills. Although it is a challenge to read all the documents, Shannon said he has learned to read two documents at once and comprehend it.
"I'm really interested in law," Shannon said. "That's what I know I want to do as a career."
CHS students started preparing for mock trial at the beginning of September by studying the prosecution, defense briefs and all of the witness testimony. Advisor Nicholas Hamman said that along with studying, it was quite a task to go over all of the proper courtroom procedures and etiquette.
"I will also point out that Tony Chamberlin, our attorney coach, and Gary McVey, retired teacher and long time mock trial coach, were invaluable in preparing our students for the competition," Hamman said. "This was my first year as a mock trial coach and although I felt lie I had an understanding for how court works, this experience really opened my eyes to the fact that trial court is just like any competitive sport with its own language, rules and procedures."
Hamman gives credit to the students for keeping each other motivated over the last six months and he said the students were already discussing plans for mock trial next year and what they can do to improve for 2017.
Local winners for outstanding witness were Dalton Herron, CHS; and Flynn Shannon, TVHS.
Outstanding attorneys were Zach Fausnaugh, CHS; Preston Pennington, TVHS; and Flynn Shannon, TVHS.
Members of the CHS team include Dalton Herron, Tanner Bigam, Katie McIlroy, Zach Fausnaugh, Jarred Utt, Rachel Branham, Taylor Stewart, Haly Taylor, Danielle Stout, Blake Spiller and Meghan Brooks.
Participating on the TVHS blue team were Becca DeLong, Flynn Shannon, Preston Pennington, Elizabeth Barrowman and Tiera Wiles. Members of the gold team were Trinity Langbein, Tyler McNutt, Cameron Gaffney, Luke Kerber, Emily Legg and Nabilia Suddle.
Other schools that participated along with West Jefferson and Miami Trace were Columbus School for Girls and Harvest Preparatory School.
According to Whitten, TVHS has advanced to regionals five times and to state four times. The regional competition will be held on Feb. 19.