Complete Story

01/25/2017
Warren High School Students Testify to the Benefits of Mock Trials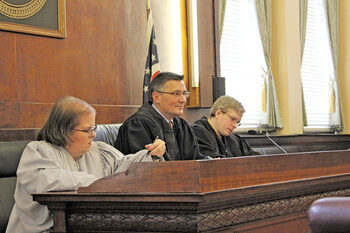 Photo by Janelle Patterson Marietta Assistant Law Director Catherine Reynolds, from left, Washington County Common Pleas Court Judge Mark Kerenyi and Marietta Assistant Law Director Dan Everson preside over mock trials Friday.
MARIETTA — The Warren Warriors advanced to regionals Friday after a competing in a grueling day of mock trials at the Washington County Courthouse.
Their competition included teams from two schools, Federal Hocking Secondary in Stewart and River Valley High in Bidwell.
But across the state more than 3,000 high school students took part in the Ohio Center for Law-Related Education's 34th annual Ohio Mock Trial Competition.
"We've competed at state seven times," said Kim Wile, Warren High School American History teacher. "But the last time we went to state was in 2012. Today has been nerve-wracking. You hope that they have prepared and are ready, then you hope they can keep up with the off-the-cuff responses."
This year's mock trial considered a case of defamation of a public official by a news station. The fictitious governor in the case loses a bid for re-election and files a civil suit against the news station, alleging defamation.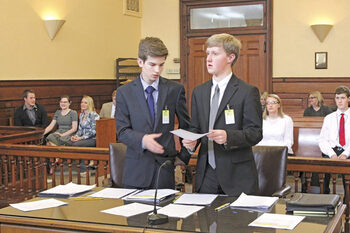 Photo by Janelle Patterson Warren High School students Joe Allen, 16, left, of Coolville, and William Christian, 18, right, of Vincent, represent the mock plaintiff at the Washington County Courthouse on Friday.
Warren students had to battle objections and questions of the distinction between an expert witness and a plaintiff's opinion.
"They catch you off guard and if you can't come up with an eloquent response, or be quick enough to explain why you asked a question in a certain way, you're toast," said Alexandria Johnson, 17, of Vincent.
Junior Ellen Gill, 16, of Vincent, said she has participated in the mock trials for the past three years to learn speaking skills and get a better feel for the legal system.
"I want to go to law school and this teaches you how to respond eloquently but still keep to the basis of your side of the case," she said.
Gill repeatedly was asked by representatives from the opposing team to rephrase her answers without her character, the fictitious governor, providing opinions.
"That was hard, but you have to keep in character and that's what I focused on," she said. "At the end of the day it was for our team to fight for the side we were assigned."
For Nicholas Fish, 17, of Cutler, preparing to present the case included rigorous practice sessions for the past three months.
"We began in November with reading through the materials and memorizing witness statements," said Fish. "Then being able to split the team in half and go through hours of runs of defense and plaintiff questions, I felt really prepared today."
Cameron Cantley, 18, of Vincent, said participating this year as a new member of Warren's team was invigorating.
"It's just been fun to see it all come together after all of the time we took to prepare and to be ready for the out-of-nowhere questions," he said.
Warren will compete in the regional competition on Feb. 10. Regional winners will compete in the state competition on March 9-11 in Columbus.
"Mock trial is a dynamic program that encourages students to apply the Constitution to their lives," said program coordinator Caitlyn Smith. "Through their participation, students sharpen public speaking and research skills, and apply critical thinking to dissect important legal issues from different perspectives. These skills will prove useful to students throughout their lives."
The 2017 state champion will represent Ohio at the National High School Mock Trial Championship on May 11-13 in Hartford, Conn.
Written by: Janelle Patterson