Complete Story

03/14/2017
Indian Hill High School Team Red Wins Mock Trial State Championship
Ohio Mock Trial is Ohio's largest high school academic competition.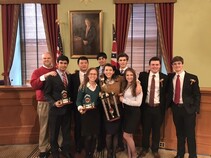 More than 3,500 students participate each year, and approximately 1,000 legal professionals volunteer to serve as judges and team advisors. Each year, OCLRE writes an original case based on a relevant constitutional issue. Students must prepare arguments for both plaintiff and defense. Ohio Mock Trial is designed to educate students about the U.S. Constitution and judicial system and to help them develop critical thinking, reading, writing, public speaking and listening skills. The 2017 Ohio Mock Trial case, Pat Justice v. CAT News et al., focused on a First Amendment issue in which students considered a case of defamation of a public official by a news station.
The panel of judges for the final trial included Ohio State Bar Association president Ronald Kopp; Ohio State Bar Foundation president Andrew Storar; OCLRE Board of Trustees member Candice Suffren; Judge Jerry McBride, a member of the Ohio Mock Trial Competition Committee and a judge of the Clermont County Common Pleas Court; Jeff Ginsburg, Ohio Mock Trial Competition Committee member and personnel director of the Holmes County Department of Jobs & Family Services; Jessica Paine, member of the Ohio Mock Trial competition committee and Assistant Director of Community Programs & Information for the Cleveland Metropolitan Bar Association; and Stephanie Graubner-Nelson, member of the Ohio Mock Trial case committee and Manager of the Children & Families Section of the Supreme Court of Ohio.
The Ohio Center for Law-Related Education is a non-profit, nonpartisan organization whose goal is to improve society by developing citizens empowered with an understanding of our democratic system. OCLRE is sponsored by the Supreme Court of Ohio, Ohio Attorney General's Office, Ohio State Bar Association, and the American Civil Liberties Union of Ohio Foundation. The Ohio Mock Trial program is made possible, in part, by a grant from the Ohio State Bar Foundation. For more information please call (877) 485-3510 or visit www.oclre.org.