Welcome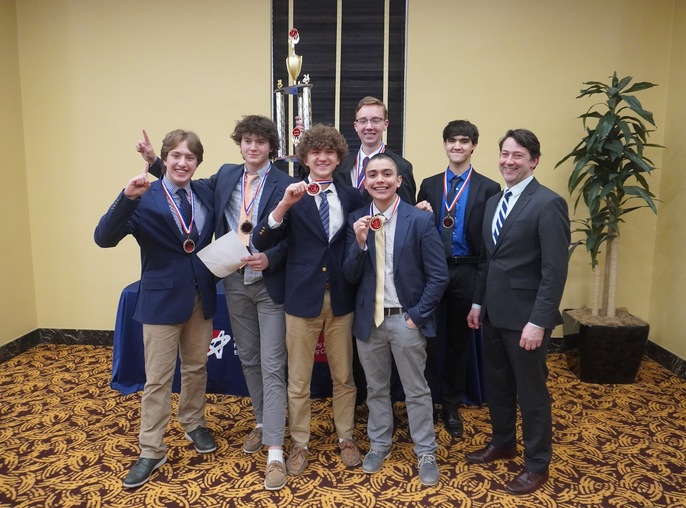 In 1983, interested groups came together to explore how Ohio could better inform students about their constitutional rights and responsibilities and fill a void in law-related education. A coalition of the Ohio State Bar Association, Ohio Attorney General Anthony Celebrezze, and the American Civil Liberties Union of Ohio Foundation strongly believed that partnerships between the educational and legal communities could effectively achieve this goal and together founded Ohio Mock Trial, a statewide high school mock trial program. The Supreme Court of Ohio, which is also a strong proponent of law and citizenship education, became a program sponsor in June 1988.
Today, OCLRE con­tin­ues to pro­vide pro­grams fo­cused on:
imparting practical law-related information to students and teachers,
developing problem-solving and critical thinking skills for students, and
providing positive engagement between students and the community.
Latest News
06/02/2016
COLUMBUS — St. Hilary School's Mock Trial teams of seventh- and eighth-graders competed at the Ohio Middle School Mock Trial State Showcase in Columbus April 15. For the second year, the school had two teams, with students serving as attorneys and witnesses.
05/19/2016
COLUMBUS (May 19, 2016) - The Ohio Center for Law-Related Education (OCLRE) will host its third annual high school Moot Court Competition May 20 at the Thomas J. Moyer Ohio Judicial Center. Students will take on the role of appellate attorneys and argue both sides of an original case.
05/04/2016
News Release
The Ohio Cen­ter for Law-Re­lated Ed­u­ca­tion (OCLRE) is cur­rently seek­ing a cur­ricu­lum lead to help guide the cre­ation of a new Ohio Gov­ern­ment Cur­ricu­lum pro­ject. The cur­ricu­lum will serve teach­ers in grades 8-12, and will act as a sup­ple­ment to our text­book Ohio Gov­ern­ment in Ac­tion by Dr. David Nay­lor. The po­si­tion will be con­trac­tual, with the term of em­ploy­ment ex­tend­ing from June 2016 until Jan­u­ary 2017.
view all events